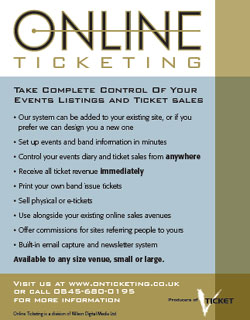 The September issue of LIVE UK magazine, published by Audience Media Ltd included an industry focus on ticketing for the live sector and highlighted Online Ticketing's vTicket advance booking and event listing system in the Tech Talk section.
The piece details how the system gives more power to the venue, allowing for much improved marketing to their visitors and allowing for both traditional printed and electronic tickets.
"We've been working closely with a few venues this past year to help the system become more adaptable, inluding SMS messaging and even streaming events online as pay-per-view shows" said Oliver Wilson-Barnes at Wilson Digital.
Online Ticketing is a division of Wilson Digital Media Ltd.